What is a purge? How is it different from a delete? Both of these functions live in Vevo Backstage, read about their differences:
Quick Facts:
- Delete function in Backstage deletes the video on YouTube/Linear only. The delivery in Backstage will still remain and you will not be able to deliver a new video with the same ISRC.
- Purge function in Backstage erases the delivery from Backstage only. When purging an ISRC for a live video, the video that is on YouTube/Linear will still be live.
Deleting a Video
A delete can be actioned by some Backstage users, and Content Ops. The delete function in Backstage only deletes the video from YouTube/Vevo CTV. The delete function does not erase the delivery from Backstage, it only removes the video file from YouTube/CTV. The "Deleted video"'s metadata, ISRC, etc. will still exist and be searchable in Backstage.
*If you delete a video and try to re-deliver the video as new with the same ISRC, you'll get an error message that the "ISRC already exists" - this is because a delete does not remove the ISRC/metadata from the Backstage systems.
*Finding a deleted video in Backstage: use the search function as you normally do, but be sure to check the box that says "show deleted" in Advanced search (as seen below).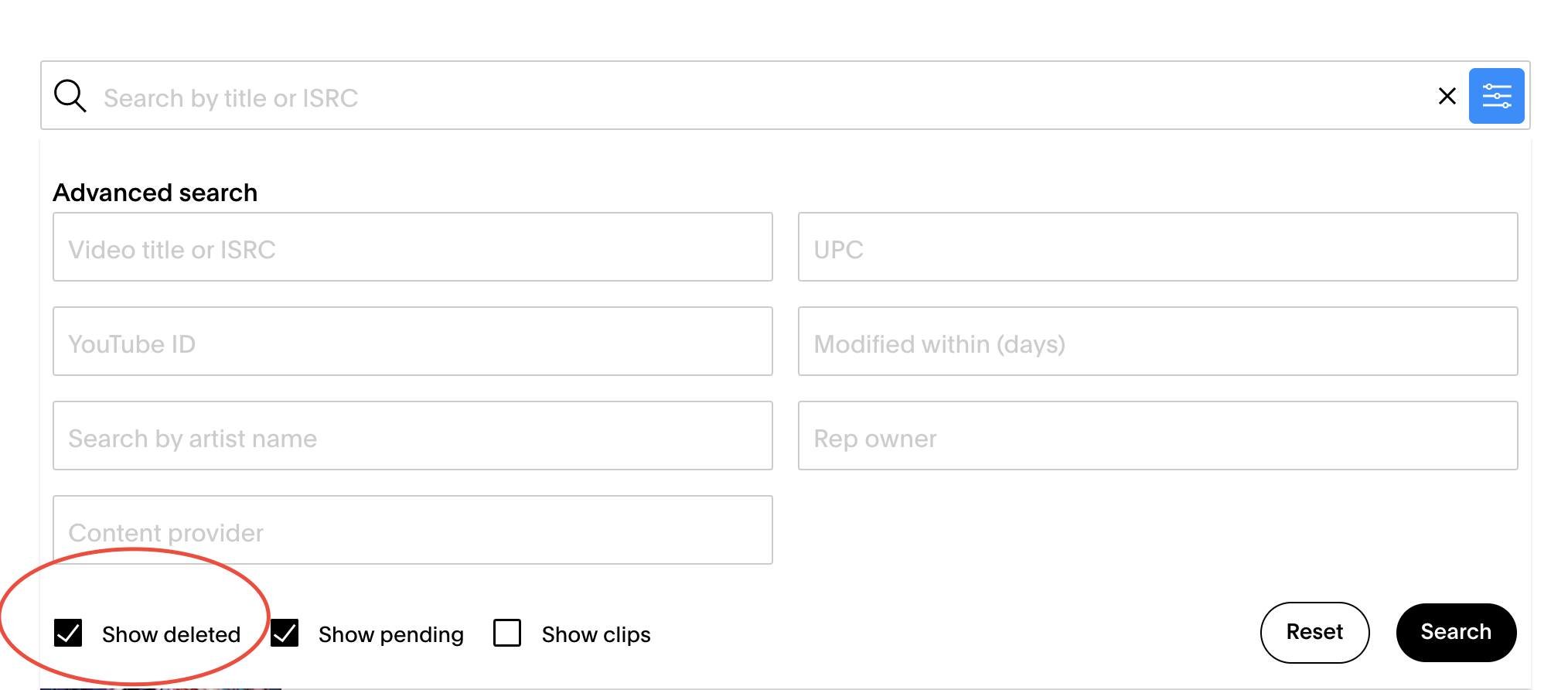 * Deleted a video that isn't live? Link: How to delete/reinsert.
* Deleted a live video by mistake? Do not reinsert! Link: How to recover a deleted video.
What is a delete useful for?
- Removing the video file and updating/replacing it with the newest version before the video goes live, while keeping all metadata the same.
- Removing the video from the wrong channel if the incorrect channel name was entered (if the video is live on the wrong, channel, contact content ops). If the video is not live, simply delete, change channel name, reinsert.
Purging a Video
A Purge can only be actioned by Content Ops. Purging only deletes the delivery (video info page) from Backstage, a purge does not delete the video from YouTube/Linear.
* If a video is purged without being deleted, the video remain live on YouTube, but it will have no counterpart in Backstage. (This is not allowed, Content Ops will always try to avoid this situation).
* If a video is deleted, but not purged, you cannot use the ISRC for the deleted video for a new delivery. You'll get the "ISRC already exists" error.
* If Content Ops receives a purge request, but the video is not deleted, Content Ops will circle back and make sure you need the video deleted from YouTube/CTV as well.
* Purging can only be actioned for videos that are deleted, or videos that did not publish at all ("blocked" deliveries).
Purging is permanent and cannot be undone.
What is a purge useful for?
- Removing a "blocked" or failed delivery from Backstage, so content providers can deliver the video again with the same ISRC.
- Removing a delivery for a deleted video, so you can deliver a video as new with the same ISRC as the deleted video