I'm an artist, can I get a login / the password to my Vevo channel?
No. Vevo owns and operates all ArtistVEVO channels on YouTube. We do not provide direct access to these channels. Please do not contact us asking for a login or a password to your channel. It will not be provided under any circumstances.
Can I get the login / the password to my OAC?
Vevo cannot assist you with this! Vevo does not manage OACs in any capacity. OACs are usually managed by the artist, the label, artist management. If you're unsure who has the login please contact your internal team. If you need a new password for your OAC, please start the YouTube password reset process, or contact artist-support@youtube.com
What If I want to make updates to my videos or my channel?
All channels/videos are managed by our partnered Content Providers. If you would like to upload a new video, make updates to an existing video, take down a video, or update your channel, you need to contact your Content Provider to action these. Our Partnered Content Providers have the tools to manage the videos they own via our CMS. If you are an artist, please contact your Content Provider, not Vevo Ops. If you contact Vevo Ops, we will direct you to reach out to your Content Provider.
Who is my Content Provider?
Your Content Provider is the distributor you partnered with to release your content with Vevo. Some of our most popular Content Providers are: UMG, Sony, DITTO, The Orchard, Symphonic, FUGA, Vydia, Videopush, InnerCat, Marvment, Seed, Gotham West, DashGo, etc. etc.
If you don't know who your Content Provider is: view your video on YouTube, expand the description, see the "Music in This Video" section, your content provider may be listed under "Licensed to YouTube By" section. (Example):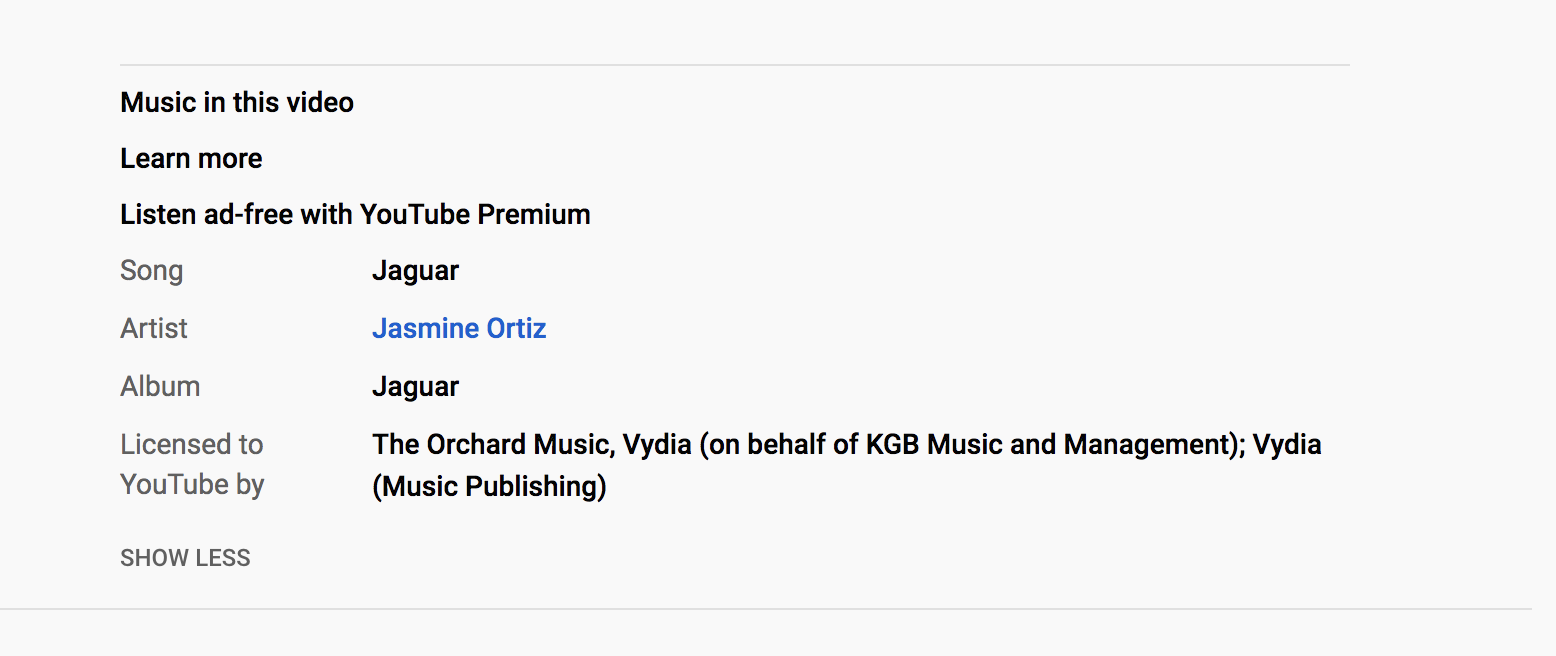 What if I no longer work with my content provider?
You still need a content provider to manage your videos on Vevo. Your new Content Provider must be partnered with Vevo.
If you are not working with the Content Provider that previously delivered your content, you can work with another active Content Provider (who is Partnered with Vevo) to deliver new content to the ArtistVEVO channel.
If you need to transfer your content from the management of the old content provider to your new content provider, you will need to contact both. Both the old and new content providers will contact Vevo on your behalf to facilitate the transfer. We need written approval directly from the old content provider to facilitate the transfer. If you're an artist, please do not contact Vevo for a transfer, the transfer will only be actioned if the Content Providers request the transfer.
Can I get my videos transferred from my Vevo channel to my non-Vevo channel/OAC?
No, once a video is in the Vevo network, it will not be transferred/chowned out. If you no longer want your video to be live, please contact your Content Provider.